Bengies Drive-In Theatre
3417 Eastern Blvd.
Baltimore, MD 21220-2147
Showtimes, Directions, Rules & our Outside Food Policy:
(410) 687-5627
or
(410) 391-1956
The BENGIES was opened on June 6, 1956. Our operating schedule MUST CHANGE WITH THE SUNSET, which changes EVERY week, as does the Sunset. During DAYLIGHT SAVINGS TIME, the show starts at Twilight, and then the features end up where ever they fall into the categories of their individual running time. I always try to begin with a feature that is rated G, PG, or PG-13., regardless of the rating of the main Feature, which runs second on Friday and Saturday nights. I do usually offer a third, or Late show, available as part of the program, or available for a separate reduced admission if you arrive just before it starts.
In order to keep this theatre a fun and safe place, please obey our Strictly Enforced House Rules, Click Here to see them.

Because of the TOTAL IMBALANCE OF EQUITY, we have instituted a policy that has helped us to get the public to understand the revenue stream at the drive-in. Outside food and beverages are restricted at this theatre. Persons wishing to bring in outside food and beverages may do so ONLY if they purchase a permit from us to do this. This must be done at the box-office, PRIOR to entering. There are signs telling you about this as you enter, and we have found an amazing amount of cooperation from our patrons. (You cannot compete in ANY market without this restriction.) This also enables us to never have to turn down an admission. At an indoor, you would simply be told to go back to the cashier and get a refund, or get rid of the food.

OF COURSE we would rather folks simply buy their snacks and food from us, our prices are very competitive. However, there are still folks who may be on a special diet, or have food borne allergies, or for a host of other reasons, we try to accommodate the situation and this allows us to do so. It is a very easy rule to comply with, if you cannot take it into an indoor theatre, you cannot bring it in here. This at least gives the patron a choice, and thankfully, they are choosing to eat here. If it would ever get to a point where folks abuse this option, and use this wonderful drive-in theatre as a picnic area, we would consider just not allowing any sort of outside food whatsoever. Eat here and we will be here.
The BENGIES has the biggest screen in the USA. It is 52' x 120', with a 460' throw from aperture to screen. This means that our anamorphic (Cinemascope) presentation is PERFECT. No cropping. Our standard "flat" presentation pulls in borders on the sides, but it almost perfect, with little cropping. The new "super 35 mm" with the aspect ratio 1.85, still pull in a border, but are not cropped. (Footnote) We converted to digital projection on 2013. We kept one 35mm film projector in place to to play classic trailers and clips during intermissions.

There are 2 ways to hear the movie, through the FM STEREO (state of the art, including the analog infrareds in the sound head, through the DOLBY

® CP-65 Cinema Sound Processor, then out to the car through our crystal clear Stereo Transmitter. (we are giving you the following channels: Left, Right, Center, Surround and Subwoofer. We also keep our AM radio broadcast for those folks who do not have FM. (FM 106.9 and AM 830). YOU MUST HAVE A RADIO TO HEAR THE MOVIE. We no longer have in-car speakers at the drive-in, due to theft.
We have a variety of memorabilia on sale at the snack bar and on our website. Tee shirts, bumper stickers etc.
Almost right out of the past, theatre is nearly 90% restored.
Show starts at TWILIGHT when in Daylight Savings Time.
You must always wear shoes in this this theatre.
Huge glassed front original concession area.
Vans, Trucks, Hi-tops and MPV's must park in designated areas due to the original "lay-out" of DOUBLE ramping.
Security attendants on duty.
Audience participation.
Nostalgic atmosphere.

Non-Stop Projection. Once the show starts, there is always something on the screen. For example; we open with the "TWILIGHT OPENING": a cartoon or archived "fun stuff," then Feature #1, then INTERMISSION (20 minutes or so, snack clips, previews both old and new and another cartoon or "fun stuff") then Feature #2, and so on. There is always a double feature, and usually a TriPPPle feature on Friday and Saturday nights.
D. Edward Vogel
(Bengies Owner)
Home | About | Now Showing | House Rules | Admission | Directions | Snack Bar | Tour
Photos | Order Bengies Stuff! | FAQ | Drive-In Links | Contact | Mailing List | Archives | Comments
All Images and Content Copyright © 2000-2018 Bengies Drive-In Theatre
Friday, Oct 19th through Saturday, Oct 20th
Box Office Opens This Week
Fri - 6:00pm / Sat - 5:30pm

The House with a Clock in Its Walls
Rated: PG
Starts: Fri - 7:00pm / Sat - 6:45pm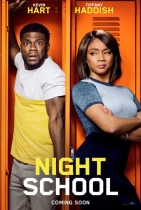 Night School
Rated: PG-13
Starts: Fri - 9:00pm / Sat - 8:45pm


Halloween (2018)
Rated: R
Starts: Fri - 11:00pm / Sat - 10:45pm